Streaming Video Encoding and Streaming Video Services
Encoding streaming video into Real Video, QuickTime, Flash Video, or Windows Media format and obtaining professional audio and video results is a complex process. Because of the steep learning curve and significant investment in hardware and software, most companies who have a need to have streaming video encoding done for their web pages or corporate Intranet outsource their digital video production needs to professionals like ourselves to get their jobs done quickly and inexpensively. Outsourcing your streaming video encoding projects saves time, money and manpower, and results in a far superior finished product.
Our Customers
We believe we digitize more streaming video for more customers than most of our competitors. In fact, we've prepared more Real Video, Windows Media, QuickTime and Flash videos than many of our competitors combined, and there's a good reason for it - producing rich media is our specialty. We treat all of our customer's videos as if they were our own - making sure that both the audio and the video tracks are the clearest and sharpest they can possibly be. Here's a sampling of our customers from a broad range of industries who have chosen us because of the quality of our work and the reliability of our encoding services.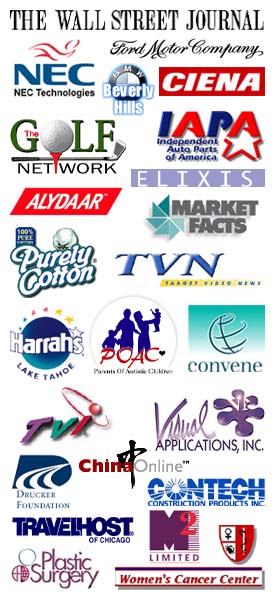 Large multinational corporations like NEC Technologies, Lockheed Martin, Procter & Gamble, Transamerica, Corn Products International, Nokia, Johnson & Johnson, BMW of North America, Lund International, and The Ford Motor Company

Video producers including Four Seasons Productions, Media Concepts, Healing Arts Communications, Target Video News, American Production Services, Terra Nova Films, Jack Wilson & Associates, Double J Films, Red Bone Media, ADS Productions, DreamVision Productions, Photokinetics, Burnt Danish Productions, Orchid Productions, A Day To Cherish, Foreseeable Solutions, Tony Travis, Blink Eye Production, The Story Factory, Good To Go Video, Infinite Video, Digitall Inc., and Guiding Light Video

Local, regional and national government offices and agencies such as The Navy, New York State Division of Criminal Justice Services, The Department of Transportation of Puerto Rico, Village of Lisle, New York State Office For The Aging, Anne Arundel County Government, Marion County Board of County Commissioners, and Lake County

Software developers like Animation Science, Elliptus Technologies, Visual Applications, Problem-Knowledge Coupler Corporation, DJD Software Consulting, Velagio, M2 Limited and Alydaar Software Corporation

IT firms, web & graphic designers of all sizes including Pinacle Decision Systems, Brainchild Information Technology Solutions, Skill Builders, JPN Associates, Hearken Creative, APS Technology, AT Communications, Ninth Degree, VisualNet, Digital Designs, Media-Vue, Chicago Webmasters, Internet Solutions, Mirage-Net, Genesys Solutions, Distant Horizons, IPRO, KD Consulting Group, Gnaritas, Harvest Advertising, The Artemis Group, Obvio, Kent Enterprises, Hicks & Ragland, TEK Consulting, WWW Wizards, Outback Design, Colossus, Thirteen Moons, Schulte Multimedia, Summit Associates, Barnet Software, The NetLab, New Connections, Gamma Burst, Bacon Design Associates, Nevada Web and K-Webz Designs

Distributors, franchisers, retailers, service providers, direct marketers, & sales professionals with product demonstrations and presentations like The Golf Network, Beverly Hills BMW, Vermont Teddy Bear, Subway, Michael C. Fina, Daily Wellness Company, Carpet One, Great Clips, Wicker World Enterprises, Harmony Company, Air Serv, K-Tel, The Glass Doctor, Ragin Cajun Foods, Kona Joe Coffee, E&J Distillers, Hosking Hardwood Flooring, Loftworks, Ever-Fresh Products, Family Fare Convenience Stores, CGL Transportation, BlackLion, TournadoGolf, Ketcham Farm Organics, Anson Products, Burton Imaging Group, Wyndham Jade, Cosmetics For Less, Heska Corp., The Dwyer Group, All Weather Inc., The Masters Collection, Western Farm Service, Mito Corp., Insta-Trim Molding, Space Air, Scarves by Margaret, Do-It-Yourself Irrigation, Smart Cover Cosmetics, Purely Cotton, Bodylastics International, Mobile Forced Air Cooling, Leading Edge Herbal, Power Wheel USA, Shooter Solutions, T-Monster Concepts, H&H Mailing, U.S. Dealer Network, Onisac International, EZ Shovel Pro, All-Pro Skate, GC Iron, Intracell Nutrition, Superior Restoration, Flexible Products Company, New Strategies, Puds Scooper, Dots Traffic School, Rainbow International, Clever Ideas, IRC, Angles Global Ltd., SkyCo, Income Solutions, Wizard of Claws, MyGait, Hartford Truck Equipment, Aspects, Trade Fair Ship, Lutterloh System International, Team Planet, Apollo Tech, Dance America, Kscapes, and Huf-N-Puf

Hi-Tech companies with products and services on the cutting edge like Ciena Communications, TV Interactive, Picis, Hypres, BICC General, RIT Technologies, In2M, Elixis, PKS Information Services, ClearTrack Information Network, SpeechWorks, Energy Conversion Devices, SHEC Labs, Synaptics, QuantumShift, BrainBuzz.com, Textware Solutions, and YieldUP

Manufacturers wishing to show their products & equipment in action including Woodward Governor Company, Hunter Douglas, Konica Business Technologies, Avery-Dennison, Imagistics, Emerson Process Management, Bostik, Rapid Line Industries, Goelst America, Rolex Watches U.S.A., Advanced Fluid Solutions, Sani-Matic Systems, USIA Equipment Corp., Ackley Machine Corp., TORP, Brinkerhoff & Company, Fenner Drives, Pulse Switch Systems, Contempo Design, Derecktor Shipyards, TrailManor, Gas Power Systems, Packaging Services Industries, Ft. Wayne Anodizing, NovaStar Technologies, Ryka Blow Molds, Industrial Electric Manufacturing, A. Finkl & Sons, Cornell StoreFront Systems, Sling-Link, Trusco Manufacturing, Creamer-Daniel, Amazing Gates of America, Welker Bearing Company, Old World Industries, AllFast Fastening Systems, Ericsson, Actiontec Electronics, NoteCo, Eco-Aqualizer, Laguna Tools, Stenograph, AJ Bender, Cohen's Carpet Rack, Cherokee Industries, Enviro Waste Systems, Foresite, Accurate Transmissions, RMI Titanium, Orchem Corporation, Contech Construction Products, Sika, Rodex Industries, Chisso Corp., ABC Industries, Signs From Above, Ravelco, Lechler, Inc., D&S Manufacturing and PowerTech

Financial, marketing, legal and consulting companies like The Federal Home Loan Bank of New York, Deloitte Consulting, Bain & Company, Goldman & Company, Technology Horizons, Kessler Investment Advisors, ICMA Retirement Corporation, Sadis & Goldberg, Starbelly.com, Wausau Benefits, Bochetto & Lentz, Home Loan Corporation, Consumer Insight, Winning Mark, Advanced Immigration, Settlement Services Group, Roster Financial, eePulse, Sheller Ludwig & Badey, Gayle Lewis Esq., Economatrix Research Associates, Point B Solutions, Consumer Credit Services of America, DecisionQuest, Verity Investments, Claritas, Witmer & Associates, GLM Mortgage Company, American Recovery Systems, Compensation Resources, State Capital Global Law Firm Group, Michael McDonough, and Market Facts

Publishers extending their reach into the digital world like The Wall Street Journal, Random House, Simon & Schuster, Off-Road Magazine, Write Together Publishing, Eau Claire Press, Marcoa Publishing, Versus Books, and the Newspaper Industry Communications Center

Organizations and public utilities who search for the highest value proposition on all of their expenditures like the Peter F. Drucker Foundation, America's SAP Users' Group, National Multiple Sclerosis Society, Planned Parenthood of North Texas, Haitian Street Kids Inc., Spirit of America, The Stuttering Foundation, Parents of Autistic Children, Bethphage, Nourish The Children Foundation, Cure International, Key Training Center, Carmel Hill Fund, Manufacturing Advancement Center, Olson Foundation, Harbor Regional Center, Society of Kabalarians, Independent Auto Parts of America, ICMA, Stroud Water Research Center, Coalition for the Advancement of Jewish Education, and the Sacramento Municipal Utility District

Educational institutions & distance learning providers like Tufts University, Institute of Technology, Wauwatosa School District, Teach First, DigiMedica, CORE, Western Kentucky University, North Florida Christian School, Nevada System of Higher Education, Middlesex School, National Evaluation Systems, Frontier School of Midwifery & Family Nursing, Delaware County Christian School, NCS Pearson, Convene, ExamWeb, The Vine, uCompass, Computer Consultants, and Member Direct Television

Medical, pharmaceutical and research professionals who demand the highest quality output like the American Society of Plastic and Reconstructive Surgeons, Crozer-Keystone Health System, BioArray Solutions, American College of Prosthodontists, Pennington Biomedical Research Center, Trinity Mother Frances Health System, The Women's Cancer Center, Milford Hospital, American College of Dentists, The Spine Institute, Sun Healthcare, Osteotech, Medtext, Boehringer Ingelheim, Northwest Hospital, CardioNow, Long Island/Queens Vitreo-Retinal Consultants, Pediatric Otolaryngology Head and Neck Surgery Associates, Guthrie Healthcare System, Massachusetts Eye & Ear Infirmary, Premier Medical Group, Leading Edge Dental, Lares Research, Healthcare Information Management, Lavipharm Laboratories, The Right Step, Orthodontics1, Septodont, Dr. Sanjay Doshi, PKC Corporation, and Dr. Norman Rosenthal

Real Estate, construction and ranching companies like Renaissance Housing, Kyle Carter Homes, Premier Properties of SW Florida, Mark Timothy Luxury Homes, Creative Environments, Yankee Barn Homes, The Jay Ginsberg Group, Inland Energy, Associated Builders and Contractors of S.E. Texas, Plattsburgh Airbase Redevelopment Corporation, Spaulding & Slye, Wayne Automatic Fire Sprinklers, Kane Realty Group, Pahio Mainland Corporation, John Greene Realtor, Houston Ranch, Fantasy Friesians, All Steel Homes, Chas. Middleton & Son, Dickinson Homes, Cassandra Harbin Realtor, Lewis Walker Realty, Hans Baier, and Jess Reid Real Estate

Public speakers, broadcast journalists and political candidates who understand the power of repurposing existing video to the web like Dave Stein, Susan Dellinger, Bob Love, Jack Ryan, Donna Ignatavicius, Jennifer Granholm, Leads To Sales, Michela Alioto, Timberly Whitfield, Randy Murray, and Angelo Kyle

Cultural and religious sites like The Franciscan Sisters of the Poor, Peace Lutheran Church, The Catholic Diocese, Legion of Christ, Tru 2 Life Ministries, Chicago Community Kollel, Jewish Museum of Florida, Broadview Missionary Baptist Church, Baltic Jesuit Advancement Project, Mr. Kenyada's Neighborhood, Mainstay Ministries, John David Kirby Ministries, China Online, Nai-Ni Chen Dance Company, Cleveland Center for Contemporary Art, The Evangelist Store, Philip Jones Griffiths Photographs, and The Museum of Photographic Arts

Travel, entertainment, dining & lodging sites such as Harrah's Casino, Moss Beach Distillery, Uno Restaurants, Summit Station Lodge, Utopia Entertainment, Lobster Brothers Seafood, Rail Europe, Carnival Cruise Lines, St. Paul Saints Baseball Team, TravelHost of Chicago, Immersion Entertainment, EntertainMeVegas, American Tours & Travel, Dimmick's Doubles, Taylors Irish Night, Team Imagination, Verana, World Wide Fishing Guide, Hillbilly Hollywood, Global Select, Jim Stafford Theatre, Roger Himes, The Pink Flamingos, Amorous Entertainment, Web Dream, TallyNights, and Ecstasy Zone