Using Celebrity Look-alikes in Streaming Video Presentations
Are you ready to capture a larger segment of your market by thinking outside of the box? If so, you may want to consider utilizing the services of Dimmick's Doubles in the next streaming video presentation on your web site. Whether the look-alike is used to do a short lead-in to an existing video that you already have prepared, or you have the look-alike do your entire sales presentation, the positive results are obvious. You'll capture the interest of your visitors and will be generating additional word-of-mouth buzz about your company's web site.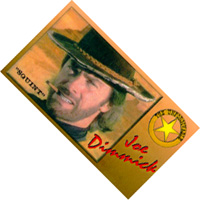 Dimmick's Doubles, a leading provider of celebrity look-alikes to corporate America, can handle all of the details associated with your video project from contracting with the celebrity look-alike, to the actual video taping of the look-alike in their own studio. You select the look-alike, furnish the script and detailed objectives, and they'll do the rest. The price far less than you might imagine, and well within the budget of even a small company looking to energize the impact of their video presentation.
Dimmick's Doubles Contact Information
Dimmick's Doubles can be reached at 760-366-2599 or via email at joe@dimmicksdoubles.com. You may also visit their web site at http://www.dimmicksdoubles.com. Dimmick's Doubles can provide talent for conventions, special events, promotions, trade shows, casinos, hotels, photos, film and television.